Anita Pratap
Curriculum Vitae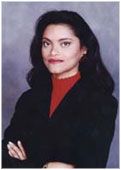 Was the South Asia Bureau Chief of CNN till January 1999. Covered all the major stories in the region including the nuclear tests, the ethnic war in Sri Lanka, the Taliban takeover of Afghanistan, conflicts in India's Kashmir and North East and reported extensively from the line of control between India and Pakistan. Was the first television journalist to report from the 22,000 ft Siachen Glacier, the highest battleground on earth, where Indian and Pakistani armies exchange fire almost daily. Have interviewed all the heads of nations in the region.
Before joining CNN, worked eight years as a correspondent for TIME magazine, covering stories in the region. Before that, worked as a reporter for leading Indian magazine and newspapers including India Today, Sunday and the Indian Express.
Over the past 20 years, in addition to hardcore breaking news, have consistently reported on issues such as population, education, health care, poverty, child, women, cultural and historical issues. Currently working as an independent documentary film-maker, producing and directing films on these issues.
Awards
Won the American George Polk Award in 1997 for excellence in television reporting for coverage of the Taliban takeover of Kabul.
Won the Eminent Indian Award conferred by the Indo-American Society in 1997
Won all three nominations in the television news category for the Pinnacle Award for stories on Kashmir, Sri Lanka and Afghanistan.
Won the Chameli Devi Jain Award in 1998 given to an "Outstanding Woman Media Person".
Received the Lifetime Award for Journalism in 2007
Honored by Alma Mater Miranda House in 2009
Awarded "Noble Laureate" as Media Citizen by Karmaveer Puraskaar in 2010
Les mer